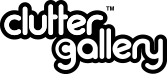 The Clutter Gallery, 163 Main Street, Beacon, NY 12508 is focused on showing quality work by both established and emerging artists in the fields of toy design & customization and modern pop & lowbrow art. Located in the artistic community of Beacon, NY, the Clutter Gallery's exhibitions are open to the public and free of charge. Read More.
---
CURRENT SHOW:
Mind the Mess
April 10th - April 30th, 2021
5thTurtle is a Bronx-born, Maryland-based artist that has been a rising star of the resin and designer toy sculpture world since 2018. Influenced by comic books and pop culture, he experiments with color, light, and different mixed media to bring his original characters to life.
Clutter Gallery is proud to present the first solo show of his work, as 5thTurle takes over, just please "Mind the Mess"!!
-- - - - - - - - - - - - - - - - - - - - - - - - - - - - - - - - - - - - - - - - - - -
It was All A Dream. Custom Show.

April 10th - April 30th, 2021
Clutter Gallery is proud to present "It Was All A Dream", a custom show of 5thTurtle's Dreamer figure. Curated by Evan Martinez, each artist was given a 4" figure to customize
Featuring the talents of:
5thTurtle, aDoozie, Arman Kendrick, Bearly Available, Big C, Bubblegum Siren, Bunny Mischief, Ch3atCode, Creon, Czee13, Fat Dragon Toys , Fett.Up Toys, Frank Mysterio, Ghost Fox Toys, Hot Actor, Into The Void Toys, JEO, Klav, Kwestone, MarkingBoy, Milo San Luis, Mr KumKum, Nicky Davis, Playful Gorilla, Prime, Priscilla Marquez, Quiccs, RedGuardian, Resin Rookie, Rsin, RunDMBVinyl, SergandDestroy, The Painting Chemist, Wetworks, XyBot.
UPCOMING SHOWS:
2021 Calendar:
(More to be confirmed)
----------------------------
During the Covid-19 pandemic please keep an eye on our social media and emails for the most up-to-date information. Below is our current schedule, but this is subject to change, as most things currently are.
May:
- Klav 9 Tank Custom Show - Jared Flores Solo Show
June:
- TBA - Javier Jimenez Solo Show - Mumbot Solo Show
July:
- Vandul Solo Show - DeadBeatCity Solo Show - Jcorp Solo Show
August:
- Wonder Goblin Solo Show - Arman Kendrick Solo Show - Dolly Oblong Solo Show - Otto Björnik Solo Show
September:
- Rainbow Sparkles V - Muffinman Solo Show (POSTPONED TO 2022) - 2PetalRose Solo Show (POSTPONED TO 2022)
October:
- Halloween - Twelevedot Solo Show - Lisa Tomss Solo Show
November:
- Mar2ina Solo Show - David Bishop Solo Show - BogxSquad Solo Show
December:
-8th Annual Gift Wrapped
JOIN THE PREVIEW LIST:
---
ARTIST SHOWCASE 2021

---
PREVIOUS GALLERY SHOWS