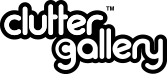 The Clutter Gallery, 163 Main Street, Beacon, NY 12508 is focused on showing quality work by both established and emerging artists in the fields of toy design & customization and modern pop & lowbrow art. Located in the artistic community of Beacon, NY, the Clutter Gallery's exhibitions are open to the public and free of charge. Read More.
---
CURRENT SHOW:
DEADWEIGHT: A Colus Solo Show

Aug 11th - 31st, 2018
Colus is a self-titled designer label from artist/animator Colus Havenga. Born in Cape Town, South Africa, his passion for design, animation, and designer toys moved him to San Diego, California, where he currently resides.
Colus explores themes of morality to mortality with symbolic, bold, contrast-rich works. His use of underground tones, obsequious themes, and penchant for a greyscale color palette, makes his work iconic and daring.
ConstrucTOYvism!
Aug 11th - 31st, 2018
The Clutter Gallery is proud to present a group show inspired by Russian Constructivism. The color pallet for the show is limited to Black, White, and Red, conjuring the spirit of machines and the style of constructed reality.
Participating artists include: 2Petalrose, American Gross, Andrea Kang, Art of Jeaa, Cat Atomic, Czee, Dolly Oblong, Double Parlour, El Hooligan, Eric Alverez, FER MG, Fluke, HX Studio, Jenn & Tony Bot, Johnny Draco, Jon-Paul Kaiser, Klav, Kyle Kirwan, Mr.Mitote, Nugglife, Tokyo Jesus, Wetworks.
UPCOMING SHOWS:
2018 Calandar:
Sept 8th:
They Came from Planet Rainbow Sparkles 2 - Glitter in Your Eye!
Sept 8th:
Horrible Adorables Solo Show
Oct 13th:
Haloween Group Show
Oct 13th:
Erica Borghstijn-Prinse Solo Show
Nov 10th:
Bioluminecence
Nov 10th:
Kaori Hinata
Dec 8th:
Gift Wrapped
Dec 8th:
Lisa Rae Hanson // I Break Toys Solo show
JOIN THE PREVIEW LIST:
---
GALLERY SHOWS