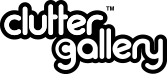 The Clutter Gallery, 163 Main Street, Beacon, NY 12508 is focused on showing quality work by both established and emerging artists in the fields of toy design & customization and modern pop & lowbrow art. Located in the artistic community of Beacon, NY, the Clutter Gallery's exhibitions are open to the public and free of charge. Read More.
---
CURRENT SHOW:
All We Need is Mask! Kik.Kake Solo show
Nov 14th - Dec 4th, 2020
Clutter Gallery is proud to present Japanese toy master Kik.Kake Toys' first USA solo exhibition!
We are honored to have this wildly creative designer present his first solo show here at the Clutter Gallery.
Kik.kake has been making toys since 2011, and has captivated our imaginations with his visions of monkeys, clowns, aliens, and blow up dolls. His willingness to push boundaries, to cross-pollinate his own ideas into wild new forms, and do it all with a transgressive attitude that is both as loose as a Childs drawing and as tight as a latex bodysuit, makes him one of the best designer toy artists working today.
Here is his artist statement about the show; "Unfortunately, we now need masks to live. However, masks have long been needed in TOY design. This is because the TOY needs to be covered for a while in order to be beautifully reborn into various shapes. These humorous toys have changed into new appearances after a period of time covered by masks. I would like to share this stuffy time and enjoy new our changes too."
The opening reception for all shows will be free to the public and take place on Nov 14th, 2020, from 6-9 pm. The works will remain on display until Dec 4th, 2020.
PLEASE NOTE: Due to the ongoing coronavirus situation we will only be allowing in ten guests at a time. NO-ONE will be admitted without a mask, so please make sure you are prepared. We ask that everyone observe social distancing rules both inside and outside the gallery
Sales will be first offered to our Preview list subscribers. An email will be sent out on Saturday at 12 (noon) est, with a link to preview and purchase. To register for the preview list, please follow the link below:
JOIN THE PREVIEW LIST:
Items will be available online to the public shortly after 9 PM Eastern time on opening night.
UPCOMING SHOWS:
2020 Calendar:
(More to be confirmed)
----------------------------
During the Covid-19 pandemic please keep an eye on our social media and emails for the most up-to-date information. Below is our current schedule, but this is subject to change, as most things currently are. We will be hosting virtual openings for the foreseeable future until we are allowed to reopen to the public.
Novemeber:
- Mike Strick Solo Show POSTPONED
December:
- Gift Wrapped 2020 - Rampage Toys! 2020
JOIN THE PREVIEW LIST:
---
PREVIOUS GALLERY SHOWS