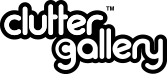 The Clutter Gallery, 163 Main Street, Beacon, NY 12508 is focused on showing quality work by both established and emerging artists in the fields of toy design & customization and modern pop & lowbrow art. Located in the artistic community of Beacon, NY, the Clutter Gallery's exhibitions are open to the public and free of charge. Read More.
---
CURRENT SHOW:
They Came from Planet Rainbow Sparkles!
Aug 12th - Sept 1st, 2017
Clutter Gallery is proud to present our annual cute and colorful group show!.
Featuring the following amazing artists: Amanda Louise-Spayd • Amy Crabtree • Aya Kakeda • Chima Group • Chris Ryniak • Cocoriang • Czee • Danny Roldan • Dethchops • Domenico Scalisi • Eloise Kim • Erica Borghstijn • Grumble Toy • Irreeal Dolls • Jaykblu • Jump Jumper Ant • Kristina Drake • Kyle Kirwan • Lisa Rae Hansen • Maddy Norval • Mazzle • Miss Little Zombie • Miss Mindy O'Brien • MJ Hsu • Nympheas Dolls • Peter Kato • Refreshment Toy • Sabrina Elliott • SaoZen • Seriously Silly K • Steve Ferrera StickyMonger • Svetlana Polupanova • Tasha Zimich • The Bots • Tik Ka •Tomadachi Island • twelveDot • Valency Genis • WoolBoon • Yoii • Zard Apuya
Blown Away
Aug 12th - Sept 1st, 20177
A Josh Mayhem Solo Show!
Presented on the brick, the opening reception will be free to the public and take place on Saturday, Aug 12th from 6-9pm. Works will be available to purchase and will remain on display until Sept 1st 2017.
---
GALLERY SHOWS