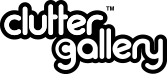 The Clutter Gallery, 163 Main Street, Beacon, NY 12508 is focused on showing quality work by both established and emerging artists in the fields of toy design & customization and modern pop & lowbrow art. Located in the artistic community of Beacon, NY, the Clutter Gallery's exhibitions are open to the public and free of charge. Read More.
---
CURRENT SHOW:
Klav 9's Tank Club
May 8th - June 5th, 2021
To celebrate Klav's first sofubi figure - the TANK - we bring you a fantastic custom show!
Featuring the talents of:
Bayla, Charles Villacara, Cherry Moth Cake, Czee13, Drillone, EvilDave, Frank Mysterio, Iain Hamilton, Jellykoe, JFO, jllopezstyle, Kalamity, Klav, Kow Yokoyama, Mark Nagata, Markingboy, McBraining, Mechavirus, Mickey Mic, Motley Miscreations, Mrkumkum, Mus Musculus, Quiccs, Rampage Toys, Rick Strohmeyer, Riser13, Sad Salesman, Uhh, Sure Monsters, & More!
-- - - - - - - - - - - - - - - - - - - - - - - - - - - - - - - - - - - - - - - - - - -
FTW - Jared CircusBear Solo Exhibition.

May 8th - June 5th, 2021
Clutter Gallery is proud to present "FTW", a solo exhibition of master sculptor and customizer, Jared CircusBear!
The opening reception for all shows will be free to the public and take place on May 8th, 2021, from 6-9 pm. The works will remain on display until June 5th, 2021.
PLEASE NOTE: Due to the ongoing coronavirus situation we will only be allowing in ten guests at a time. NO-ONE will be admitted without a mask, so please make sure you are prepared. We ask that everyone observe social distancing rules both inside and outside the gallery
Sales will be first offered to our Preview list subscribers. An email will be sent out on Saturday at 12 (noon) est, with a link to preview and purchase. To register for the preview list, please follow the link below:
JOIN THE PREVIEW LIST:
Items will be available online to the public shortly after 9 PM Eastern time on opening night.
UPCOMING SHOWS:
2021 Calendar:
(More to be confirmed)
----------------------------
During the Covid-19 pandemic please keep an eye on our social media and emails for the most up-to-date information. Below is our current schedule, but this is subject to change, as most things currently are.
June:
- Re:Imagine II - Ron English Custom show. - Mumbot Solo Show
July:
- Vandul Solo Show - Galaxy People Solo Show - Jcorp Solo Show
August:
- Wonder Goblin Solo Show - Arman Kendrick Solo Show - Dolly Oblong Solo Show - Otto Björnik Solo Show
September:
- Rainbow Sparkles V - DeadBeatCity Solo Show
October:
- Halloween - Twelevedot Solo Show - Lisa Tomss Solo Show
November:
- Mar2ina Solo Show - David Bishop Solo Show - BogxSquad Solo Show
December:
-8th Annual Gift Wrapped - Muffinman Solo Show (POSTPONED TO 2022) - 2PetalRose Solo Show (POSTPONED TO 2022)
JOIN THE PREVIEW LIST:
---
ARTIST SHOWCASE 2021

---
PREVIOUS GALLERY SHOWS