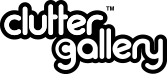 The Clutter Gallery, 163 Main Street, Beacon, NY 12508 is focused on showing quality work by both established and emerging artists in the fields of toy design & customization and modern pop & lowbrow art. Located in the artistic community of Beacon, NY, the Clutter Gallery's exhibitions are open to the public and free of charge. Read More.
---
CURRENT SHOW:
Cacophony - A Kyle Kirwan solo show!

May 12th - June 1st, 2018
The Clutter Gallery is proud to present an amazing solo exhibition by resin casting, art wonderer, Kyle Kirwan!
Kirwan previously lived in New York City for over a decade before hitting the road in 2015 with his love and his art, in their RV (fondly named Sandwich). Traveling full-time, creating art amidst amazing backdrops and narrowly escaping site-specific hazards, he has been prolifically taking the art toy scene by storm. We are extremely happy to say he will be making his return to New York with this celebration show at the Clutter Gallery!
Gross Negligence - American Grross
May 12th - June 1st, 2018
The opening reception for both shows will be free to the public and take place on May 12th, from 6-9pm, at Clutter Gallery in Beacon, NY. We will have free treats from North Brooklyn Eats, beer provided by our awesome friends at Lagunitas, and the awesome addition of Mike's Harder Lemonade!
-
Sales will be first offered to our Preview list subscribers. An email will be sent out on Saturday the 10th at 12 (noon) est, with a link to preview and purchase. To register for the preview list, please follow the link below:-
JOIN THE PREVIEW LIST:
UPCOMING SHOWS:
2018 Calandar:
May 12th:
TBA
May 12th:
Kyle Kirwan Solo Show
June 9th:
Chris RWK Presents: Cluttered
June 9th
: Czee Solo Show
July 14th:
Remjie // Seymour // Wondergoblin
July 14th:
Tara McPherson Pop-up
Aug 11th:
TBA
Aug 11th:
Colus Solo Show
Sept 8th:
TBA
Sept 8th:
Horrible Adorables Solo Show
Oct 13th:
Erica Borghstijn-Prinse Solo Show
Nov 10th:
TBA
Nov 10th:
Kaori Hinata
Dec 8th:
Gift Wrapped
Dec 8th:
Lisa Rae Hanson // I Break Toys Solo show
JOIN THE PREVIEW LIST:
---
GALLERY SHOWS