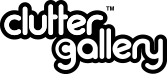 The Clutter Gallery, 163 Main Street, Beacon, NY 12508 is focused on showing quality work by both established and emerging artists in the fields of toy design & customization and modern pop & lowbrow art. Located in the artistic community of Beacon, NY, the Clutter Gallery's exhibitions are open to the public and free of charge. Read More.
---
CURRENT SHOW:
Kaiju Kannibal

March 14th - April 3rd, 2020
Lost in the dark heart of a wintry wilderness, surrounded by the rotting flesh of human corpses, you are faced with the choice. Die with the hollow pit of emptiness in your belly or live and sacrifice the remains of all you hold dear, your humanity, your soul, your eternal being... this is the hell of KAIJU KANNIBAL.
Participating artists include:
Cherry Mothcak, Death Cat toys, Frank Mysterio, Grizlli Atom, Grumble Toy, Javier Jimenez, John bellotti jr, Magitarius, Mark Nagata, Motley Miscreations, ODOMstudio, PLASEEBO, Rampage Toys, Science Patrols, Splurrt, Uhhsure Monsters, Videovomit, Wonder Goblin & More
- - - - - - - - - - - - - - - - - - - - - - - - - - - - - - - - - - - - - - - - - -
UPCOMING SHOWS:
2020 Calendar:
(More to be confirmed)
----------------------------
Feb 8th
March:
- Mr Kum Kum
April 11th:
- Ron English Custom Show - Vincent Scala Solo Show - Mr Mars Solo Show
May 9th:
- Javier Jimenez Solo Show
June 13th:
- Mizna Wada Solo Show - Wetworks Solo Show
July 11th:
- AKAMATSU Solo Show - HARIKEN Solo Show - Grumble Toy Solo Show
Aug 8th:
- Planet Rainbow Sparkles 4 Group Show - One-Eyed Girl Solo Show - Baccan (Back Country) Solo Show
Sept 12th:
- Nightly Made Solo Show - Noah Eaton Solo Show
Oct:
- Halloween Group Show - Riser Solo Show -MP Gautheron Solo Show
Nov:
- Mike Strick Solo Show
Dec 12th:
- Gift Wrapped 2020
JOIN THE PREVIEW LIST:
---
PREVIOUS GALLERY SHOWS