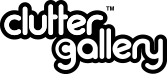 The Clutter Gallery, 163 Main Street, Beacon, NY 12508, a branch of the Clutter Media Group family, is focused on showing quality work by both established and emerging artists in the fields of toy design & customization and modern pop & lowbrow art. Located in the artistic community of Beacon, NY, the Clutter Gallery's exhibitions are open to the public and free of charge. Read More.
---
CURRENT SHOWS
Kaleidoscope of Kyoot
Aug 13th - Sept 2nd 2016
The Clutter Gallery is excited to present "Kaleidoscope of Kyoot", a custom designer toy event of cute and colorful pieces!
Participating artists include: Cat Rabbit, Chernyachi, Claymate Creatures, Crowded Teeth, Cuddly Rigormortis, El Hooligan, Flat Bonnie, Fluffy House, Gail CC, Gretchen Lewis, Grumble Toy, Hanjipan Designs, Hiroshi Yoshii, Horrible Adorables, HungryGhost, Joe Scarano, Josh Mayhem, Kyle Kirwan, Lisa Rae Hansen, Lolle, Maddy Norval, Melodreama, Misfit Menagerie, MJ Hsu, One-Eyed Girl, Seulgie, Silk and Thistle, Stitch of Whimsy, Sugar Fueled, Tomadachi Island, twelveDot, Uamou, Valency Genis, Wesker Zhan, Yoii and more!
The opening reception will be free to the public and take place on Aug 13th from 6-9pm. The works will remain on display until August 5th, 2016.
Cryptic Creatures
Aug 13th - Sept 2nd 2016
A solo Jenn & Tony Bott Show!
UPCOMING SHOW
---
GALLERY SHOWS