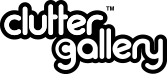 The Clutter Gallery, 163 Main Street, Beacon, NY 12508, a branch of the Clutter Media Group family, is focused on showing quality work by both established and emerging artists in the fields of toy design & customization and modern pop & lowbrow art. Located in the artistic community of Beacon, NY, the Clutter Gallery's exhibitions are open to the public and free of charge. Read More.
---
CURRENT SHOW:
The 2nd Annual Blank Show!
July 8th - Aug 4th, 2017
Clutter Gallery is proud to present The 2nd Annual Blank Show! An amazing group show!.
A group custom toy exhibition curated by Huck Gee and Clutter features: 64 Colors • Artmymind • Camilla d'Errico • Candie Bolton • Clog Two.• Colus Havenga • Czee 13 • David Bishop • Dolly Oblong • El Hooligan • Fluke • Heath Duntz • Huck Gee • HX Studio • J*RYU • James Groman • Jason Limon • JeAA • Jenn & Tony Bot • Jfury • Jon-Paul Kaiser • Lisa Rae Hanson • Mike Strick • Mr.Mitote • Muju World • Nugglife • Quiccs • RXse7en • Shiffa • Tokyo Jesus • Wetworks.
-
Puffhead
July 8th - Aug 4th, 2017
Seulgie Solo Show!
Presented on the brick, the opening reception will be free to the public and take place on Saturday July 8th from 6-9pm. Works will be available to purchase and will remain on display until Aug 4th,, 2017.
---
GALLERY SHOWS