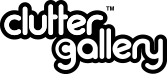 The Clutter Gallery, 163 Main Street, Beacon, NY 12508 is focused on showing quality work by both established and emerging artists in the fields of toy design & customization and modern pop & lowbrow art. Located in the artistic community of Beacon, NY, the Clutter Gallery's exhibitions are open to the public and free of charge. Read More.
---
CURRENT SHOW:
FUTURETRO - A RYCA solo show!

April 14th - May 4th, 2018
The Clutter Gallery is excited to open its doors this weekend to FUTURETRO - A solo show by British Artist RYCA!
RYCA, born Ryan Callanan, no stranger to the Clutter Gallery, brings together iconic cultural references, with a hysterical wit and strong graphic identity. We will be showcasing a mix of carded figures, 3D hanging and freestanding sculpture, and a brand new vision of resin toy "paintings". We couldn't be more excited to show such a large body of work from an artist who is pushing the boundaries of the art toy scene.
Private Collection
April 14th - May 4th, 2018
It is a rare moment when a collector chooses to sell some or all of a collection and bring otherwise unavailable art toys to the global market. This particular collection features amazing large and small-scale works acquired over two decades of careful selection. Featuring amazing art toys and sculptures by Kaws, Ron English, Frank Kozik, Mike Leavitt, Liz McGrath and Tim Biskup, amongst other fantastic artists.
UPCOMING SHOWS:
2018 Calandar:
May 12th:
TBA
May 12th:
Kyle Kirwan Solo Show
June 9th:
Chris RWK Presents: Cluttered
June 9th
: Czee Solo Show
July 14th:
Remjie // Seymour // Wondergoblin
July 14th:
Boy in the Corner Solo Show
Aug 11th:
TBA
Aug 11th:
Colus Solo Show
Sept 8th:
TBA
Sept 8th:
Horrible Adorables Solo Show
Oct 13th:
Erica Borghstijn-Prinse Solo Show
Nov 10th:
TBA
Nov 10th:
Kaori Hinata
Dec 8th:
Gift Wrapped
Dec 8th:
Lisa Rae Hanson // I Break Toys Solo show
JOIN THE PREVIEW LIST:
---
GALLERY SHOWS