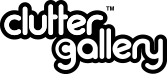 The Clutter Gallery, 163 Main Street, Beacon, NY 12508 is focused on showing quality work by both established and emerging artists in the fields of toy design & customization and modern pop & lowbrow art. Located in the artistic community of Beacon, NY, the Clutter Gallery's exhibitions are open to the public and free of charge. Read More.
---
CURRENT SHOW:
They Came From Planet Rainbow Sparkles 2

Sept 8th - Oct 5th, 2018
From the farthest reaches of Outer Space, beyond the Gum Gum Galaxy and the Nougat Nebula, lies a planet of Magical Sparkle Glitter. Once a year the inhabitants of the tinsel covered shiny wonder that is Planet Rainbow Sparkle invade the Clutter Gallery. 




Presenting the following amazing artists:

Absurdery / American Gross / Beanie Bat / Chima Group / Czee / Danny Roldan / Domenico Scalisi / Dongcheol Choi / Ears & Dears / Eimi Takano / Eloise Kim / Erica Borghstijn / Flat Bonnie / Grumble Toy / Jackie Harder / Javier Jiménez / Jay222 / Jaykishen / JCORP / Jelly Koe / Kamenthya / Katie Gamb / Kelly Denato / Kendra's Customs / KKAMoxo / Kyle Kirwan / Lisa Rae / Hansen / Little Lazies / Magda / Miss Little Zombie / Mumbot / Ngaew Ngaew / Nympheas Dolls / Petit Kokolí / Rato Kim / Remjie / Rico / TOiNZ / Sad Salesman / SaoZen / Seulgie / Simon Says Macy / Steve Ferrera / Subconscious Tails / Tasha Zimich / Teresa Chiba / The Bots / Thomas I. Rabbits / Tweedlebop / TwelveDot / Valency Genis / Vanessa Ramirez / What The Farmer / Wild Whimsy Woolies / Zard Apuya / Ziqi
All artists were assigned a color to work in, and the exhibition will be displayed as a rainbow.
The Horrible Adorablle Show
Sept 8th - Oct 5th, 2018
Horrible Adorables are the creations of husband and wife team, Jordan Elise Perme, and Christopher Lees. Hailing from Cleveland, Ohio, they met when studying at the Cleveland Institute of Art, where Jordan graduated with a BFA in Fiber and Material Studies, and Chris a BS in Mechanical Engineering.


The duo has a distinct and recognizable style. Using meticulously arranged patterns of felt scales and hand carved foam forms, their characters are uniquely cartoonish with a realistic undertone. Strange hybrid creatures from unknown fantastical worlds!
We are excited to see the duo return to The Clutter Gallery and are so excited to have them attend the opening reception on Sept 8th!
- - - - - - - - - - - - - - - - - - - - - - - - - - - - - - - - - - - - - - - - - -
UPCOMING SHOWS:
2018 Calandar:
Oct 13th:
Haloween Group Show
Nov 10th:
Bioluminecence
Nov 10th:
Kaori Hinata
Dec 8th:
Gift Wrapped
JOIN THE PREVIEW LIST:
---
GALLERY SHOWS