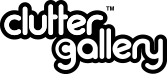 The Clutter Gallery, 163 Main Street, Beacon, NY 12508 is focused on showing quality work by both established and emerging artists in the fields of toy design & customization and modern pop & lowbrow art. Located in the artistic community of Beacon, NY, the Clutter Gallery's exhibitions are open to the public and free of charge. Read More.
---
Presenting two amazingexhibitions, opening this Saturday, Aug 10th, 2019!
CURRENT SHOW:
Sofvi Great Battle

Aug 10th - 31st, 2019
Rampage presents: Devilrobots / ukyDaydreamer / Art Junkie
Clutter & Rampage Toys are proud to present an amazing group show featuring new works by Devilrobots, ukyDaydreamer, Rampage Toys, and ART JUNKIE!!!
Bringing together three amazing Japanese artists in the ultimate SOFVI battle, who will reign victorious?
We are super excited to be hosting ART JUNKIE live in person at the opening!!
- - - - - - - - - - - - - - - - - - - - - - - - - - - - - - - - - - - - - - - - - -
The opening reception for all shows will be free to the public and take place on Aug 10th, from 6-9pm, at Clutter Gallery in Beacon, NY.
Free beer provided by our friends at Lagunitas and Mike's Hard Lemonade. PLUS amazing Gluten-free treats from North Brooklyn Eats!!
Sales will be first offered to our Preview list subscribers. An email will be sent out on Saturday at 12 (noon) est, with a link to preview and purchase. To register for the preview list, please follow the link below:
JOIN THE PREVIEW LIST:
Items will be available online to the public shortly after 9 PM Eastern time on opening night.
UPCOMING SHOWS:
2019 Calandar:
Sept 14th:
Planet Rainbow Sparkles 3
Sept 14th:
Beanie Bat Solo Show
Sept 14th:
Sad Sales Man Solo Show ----------------------------
Oct 12th:
Halloween Kaiju Show
Oct 12th:
Erica Borghstijn-Prinse Solo Show
Oct 12th:
Katie Gamb Solo Show ----------------------------
Nov 9th:
Clutter 15 Year Anniversary Show
Nov 9th:
Klav9 Solo Show
Nov 9th:
Michael Skattum Solo Show ----------------------------
Dec 14th:
Gift Wrapped 2019
JOIN THE PREVIEW LIST:
---
GALLERY SHOWS